Looking for outdoor bench ideas to set up on your patio? Or maybe in a park or garden? There are many different kinds of outdoor benches to choose from. It is important to pick the right bench in terms of material, size, and design. You want to pick a design that suits the environment for which it is intended, but also one that aligns with your personal aesthetic and tastes.
This article will help guide you on selecting the ideal material, size, and design of benches that you can incorporate into any space.
Common Outdoor Bench Materials
Choosing the right material for an outdoor bench is dependent on many factors, the major one being the weather conditions of the intended area. Below are some  common materials that can be used for your outdoor bench:
---
Wrought Iron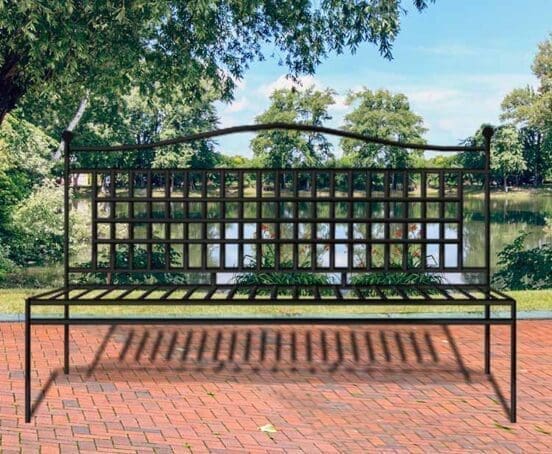 Wrought iron could be a good choice for an outdoor bench in almost any environment. It brings out a great sense of style in any setting and especially in a home setting. It is durable and can withstand adverse weather conditions such as hot and cold temperature extremes but isn't a good choice poolside, seaside, or in waterparks.
Moisture is its enemy and wrought iron is prone to rust & deteriorates when the paint or coating wears off. You can use a wire brush to remove the rust and repaint the areas, but that isn't ideal. Scraping and sanding will release rust and paint into the environment, and the time and expense that come with annual maintenance are burdens you'll continue to deal with long after the bench is paid for.  With that said, wrought iron is great if you seek a never-ending project that will last for many years to come.  However, it is highly recyclable so it doesn't have to be landfilled if you want to get rid of it.
---
Recycled Plastic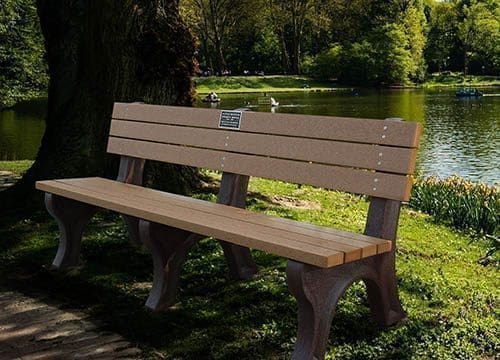 While, at first glance, some recycled plastic doesn't appear as fancy or classic as its competitors – iron and wood – these products unsurprisingly can last much longer than both. Over time there have been major advancements in recycling technology. If you need a clear example of how recycled plastic can look amazing, take a look at Polly Products recycled plastic outdoor benches. They actualize their bench designs using recycled HDPE #2 plastic to help keep the earth green and reduce the accumulation of plastic waste going to our landfills or waterways.  And because #2 plastic is the strongest of all the plastic resins, it's extremely durable.
Polly's Products outdoor benches give you a premium experience on how recycled plastic outdoor benches can be your long-term answer. The benches are mold and pest resistant and non-toxic. They are also protected from the harmful UV rays of the sun which means no bleaching out! Maintenance is a breeze as well; they do not require any painting, sanding, or finishing, which reduces your installation & maintenance costs significantly. And their benches are fastened using stainless steel hardware to prevent any rust or corrosion, even in marine and salt-water environments.  Polly Products' recycled plastic benches can be placed anywhere.  And they don't contain any composites or mixed plastics so they can be recycled over and over again.
---
Wood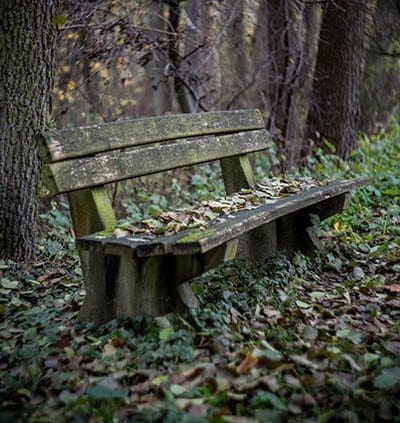 Wood is the most traditional material used in the making of outdoor benches. Wood benches can present a beautiful and elegant look when initially placed, but are also more malleable compared to other outdoor bench materials.  For centuries, people used wood to create unique outdoor bench designs because it can be easily cut and carved into any desirable shape, and was cheap and plentiful.
Choosing wood to create your outdoor bench does come with its own downsides, however. Wooden benches tend to deteriorate in adverse weather conditions. They are also susceptible to rotting, splintering,  attacks by pests such as termites, and, unfortunately, vandalism. For these reasons, wooden outdoor benches are most suitable in shaded or covered environments where they will not be affected by heavy rains, for instance, or intense sunlight.  Even then, you can expect to perform necessary maintenance, such as sanding and repainting or staining, to extend their lifespan.  And while wood is a renewable resource, sadly, old planks of tired wood are eventually destined for a landfill.
---
Wicker resin
Wicker resin as an outdoor furniture material has become increasingly popular over the years. It is often made from high-quality, recyclable polyethylene and designed to resemble traditional wicker weaving techniques. Wicker resin is a nice choice for outdoor benches; it has natural protection against UV and for this reason, it is resistant to fading, peeling, and cracking. It is fairly durable for household use so you can keep your bench around for a long time.
Additionally, wicker resin furniture is lightweight making it super easy to move around. It does not absorb water; so to keep it clean, hosing it off does the job. This is a particularly good choice if you want an outdoor bench that you can move around with ease.  Just remember that being so lightweight means the wind can also move it around.  Wicker resin is not as strong as solid HDPE plastic, yet it's often found in residential patio furniture while more robust versions of heavy, woven resins are used in commercial outdoor furniture.
---
Synthetic wood
Synthetic wood looks like real wood with texture and colored wood grains. It is often used to make outdoor furniture or decking due to its weather-resistant properties which help withstand weather conditions such as rain, wind, sun, and snow. It is a decent choice for your outdoor bench because, unlike natural wood, it does not require as much regular maintenance to retain its physical appearance.  Often referred to as 'composite' wood, what it's actually made of determines its strength and resistance to pests, absorbing water and rotting.
It is an attractive alternative for those looking for an affordable yet durable outdoor bench solution.  Synthetic wood also comes in a variety of unique colors and textures that can be molded into many shapes.  Longevity, durability, and recyclability vary based on their composition.  While some manufacturers are utilizing recycled plastic bags in their formulations and it sounds great at first, if there are mixed materials or organics in their recipe, it's not actually sustainable because the product will be landfilled at the end of its use.
Common Outdoor Bench Sizes & Dimensions
Usually, you can seat three to four people on an outdoor bench. Benches are made to offer extra seating space or a substitute for space-consuming dining tables etc.
---
Is there a Standard Size Bench?
The space allocated for your outdoor bench should be considered in whichever environment it will be placed in. You can order a bench in a length that will provide the most seating in the space available or one or two smaller benches for a more intimate seating arrangement.
---
Outdoor Bench Widths
There really isn't a standard length for outdoor benches but there are guidelines based on the number of people (adults) it can accommodate.  You might also consider whether the bench will have armrests, as those will take up space from the seat length.
A bench between 42" and 50" will comfortably seat two people with plenty of room to move.  For a three-person bench, look for a bench between 51" and 80".  A bench that's 81" to 96" has space enough for 4-5 people.
---
Outdoor Bench Seat Heights
and Depths
The seat heights and depths are different depending on the type of bench, such as for young children, school-age kids, or adults.  The seat heights and depths will encompass a range in inches that varies significantly depending on the approximate size of the intended user.
For adults, seat heights between 18" to 20" are considered standard.  As for the seat depth, 15" to 20" provides a comfortable seat for a backed bench.  The depth can be different for flat benches, such as those in locker rooms vs. rest areas in parks and venues.
---
Outdoor Bench Dimensions
The dimensions of an outdoor bench are heavily dependent on the style and size of your desired bench. The dimensions of an outdoor bench depend on the size and style of the bench. For example, a standard park or garden bench is typically 45 inches long and 12 to 15 inches wide.
The outdoor bench heights can range from 18 to 20 inches depending on preference. But, certain benches which are specially designed for people with disabilities maintain a height of about 17 to 19 inches. In essence, many benches come with armrests which are usually around 10-12 inches in width for added comfort.
Outdoor Bench Design Ideas
There is an endless variety of outdoor bench designs to choose from, depending on your criteria for selection. Nonetheless, you will be spoilt for choice. Here are some of the more versatile outdoor bench design ideas:
---
Buddy Benches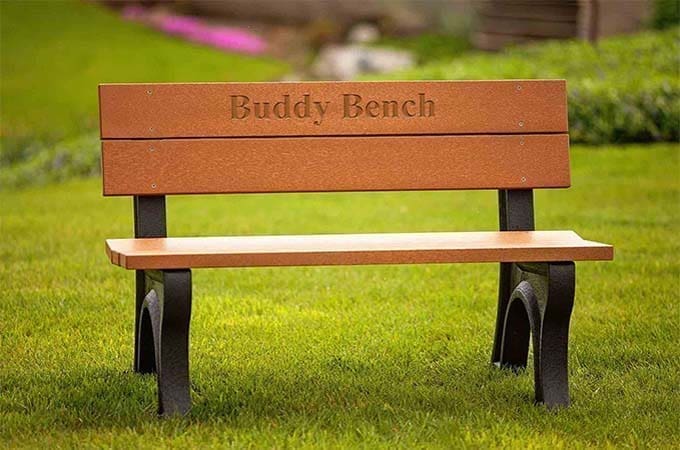 They are called Buddy benches because they are built with the idea of friendship in mind. They are perfect for little kids on playdates and even adults who seek to make conversation and form new connections. A buddy bench can sit two or more people and is ideal for schools, churches, and parks, or playgrounds.
---
Custom Plaques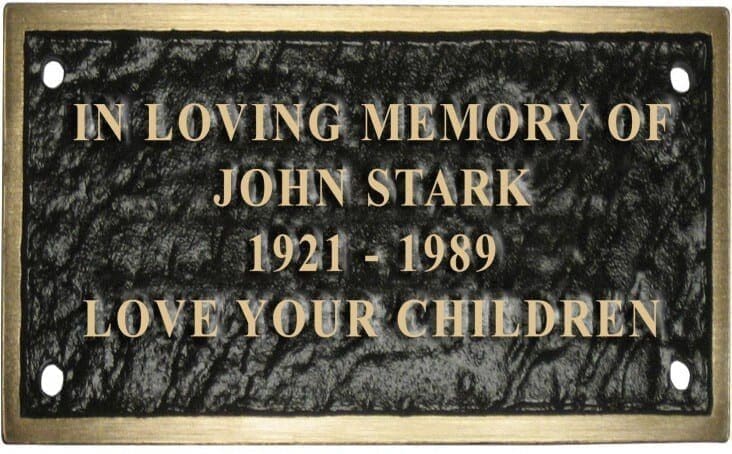 It is common practice to use custom plaques and pavers for memorials and custom benches because they can have multiple lines written on them. They as great gifts for occasions that need commemoration, like anniversaries. Custom plaques are also a cheaper alternative to engraving letters on the bench.
---
Greenscapes
The Greenscapes line is built in alignment with the classic metal frames aesthetic but at Polly Products we use solid recycled plastic to make these frames. They are attractive in any outdoor setting and are safe for all environments in that they are paint free and free from rust. Providing the benefit of wrought iron looks but the longevity and worry-free features of recycled plastic.
---
Holiday Benches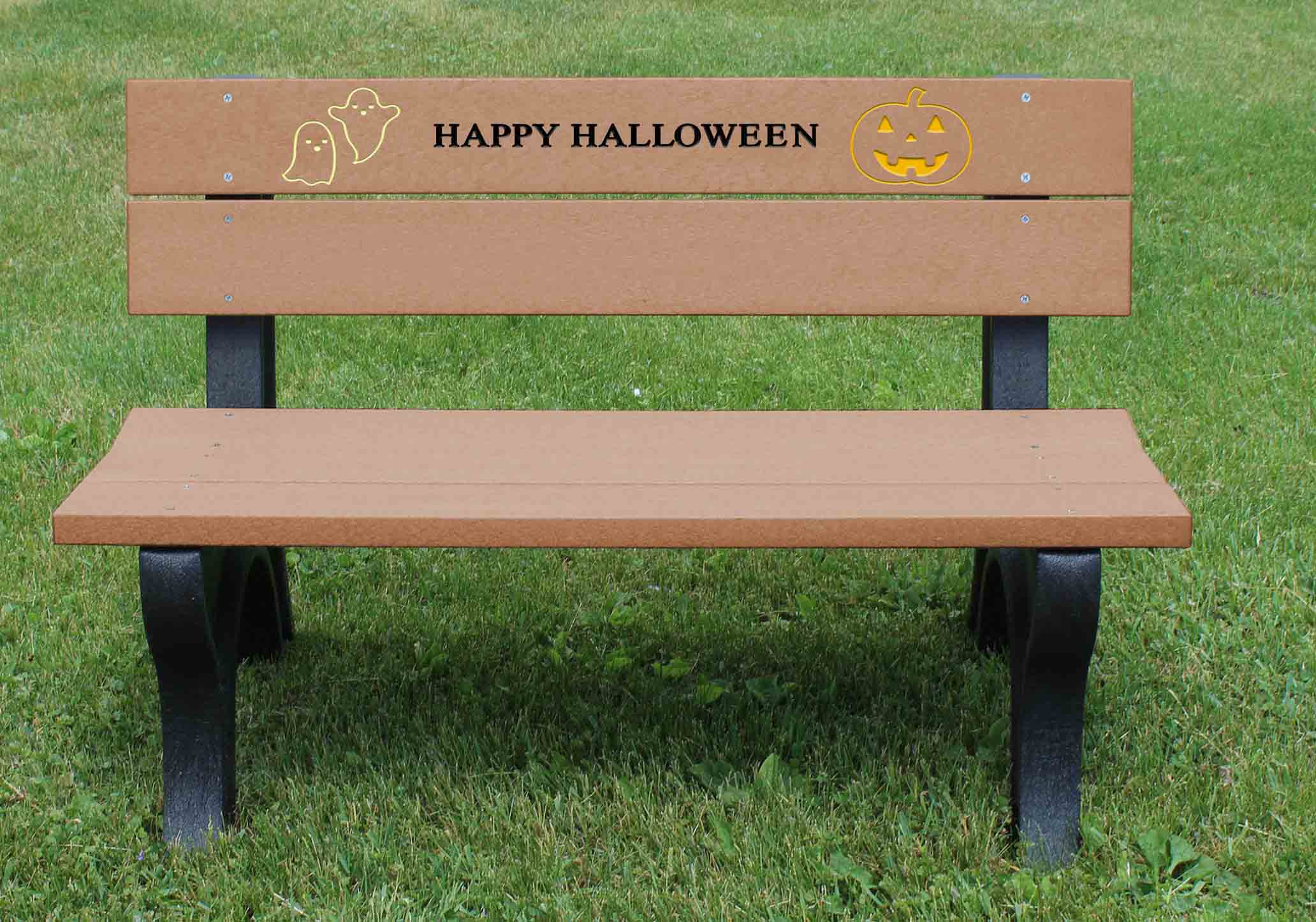 Our holiday custom benches are the perfect idea to spice up your outdoor furniture style. You can customize your holiday benches to be different for each holiday, whether it's Christmas or Halloween. It gives off a different corresponding feeling during different seasons, which is why it's a great idea for an outdoor bench at home, in front of your business, or on public grounds like a river trail or park.
Conclusion: The Best Outdoor Bench Materials
Adding an outdoor bench to your space is a great way to class up your home surrounding. For outdoor benches in open spaces such as parks, it is especially important to choose the best materials to achieve both appeal and durability.
Recycled plastic provides the benefits of all other materials at the same time, eliminating their downsides. Not only do they play their role in conserving the environment, but they are also highly cost-effective. Reach out to Polly Products today! They deliver the best, recycled plastic products, and provide you with personalized outdoor bench plans suited to your particular needs!