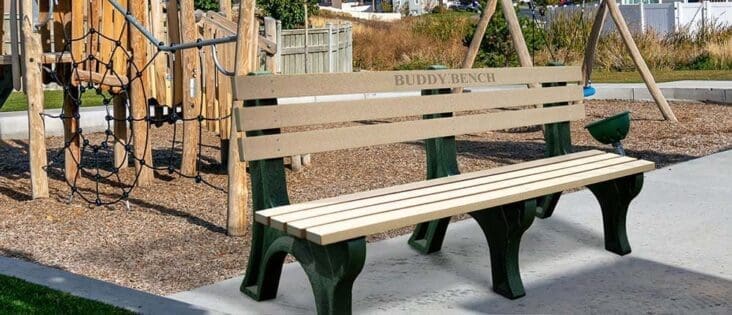 The school setting should be an enjoyable place where children can learn new things and socialize with their peers. Unfortunately, not all children have good experiences. Studies show that around 80% of children experience loneliness at school, resulting in a tendency to withdraw and avoid social interactions. Furthermore, 68% of children admit to having been bullied, with those who are lonely and isolated more likely to be victimized.
These instances of loneliness and bullying are why Buddy Benches have become such a phenomenon in schools across the country.
What Are Buddy Benches?
Buddy Benches were invented to combat loneliness and bullying in schools. Sometimes called a friendship bench, these benches are provided on school playgrounds as a way for students to signal to others that they are feeling lonely and isolated and need a friend to play with or someone to talk to. The bench allows other children on the playground to clearly see when another kid needs support or a friend, and they can join them on the bench for a chat or invite them to play.
Buddy Bench Origins
Though there are many stories of children across the country implementing programs in their school to help other kids make friends, the Buddy Bench is said to have originated with a boy named Christian Bucks from York, PA. In 2013, Christian was facing the possibility of life at a new school as a first-grader when his parents told him they might be moving to Germany.
While looking into new schools in Germany, Christian and his mother noticed a special bench on the playground at one of the schools. When they asked what it was, they were told the bench was for children who were feeling lonely and needed someone to reach out to them.
Facing the possibility of being lonely as a new kid in school, Christian could relate and thought the bench was a great idea. He then talked with the principal of his current school and began a fundraiser to have a Polly Products bench installed. Since then, the concept of the Buddy Bench has gone viral.
Why All Schools Should Have a Buddy Bench
Buddy Benches are a great way for schools to promote outreach. As loneliness, isolation, social anxiety, and shyness are still common issues that children continue to face in school; it's important for educators to find ways to help improve the wellbeing of their students. Installing a Buddy Bench on your school property can:
Combat Social Anxiety, Isolation, and Bullying
Kids who are lonely and isolated are not only likely to develop social anxiety and other negative behaviors, but they are also more vulnerable to bullying. This can result in children becoming extremely withdrawn, which can interfere with development, mental health, and can negatively affect their studies.
However, Buddy Benches have been shown to help kids get the support they need without forcing them into uncomfortable situations. They can simply sit down on the bench, and other children can then do their part to show the lonely child that they are seen, appreciated, and welcomed by going up to them for a talk or by inviting them to play.
Teach Empathy
Buddy Benches can benefit all children, not just the ones who are feeling isolated. It teaches children empathy by showing them how to recognize when someone else is in need and how we can be kind to them. This also teaches them to be more proactive—to recognize the feelings of others and to step forward to do something about it. In addition to encouraging empathy, it will also help kids develop social and leadership skills.
Promote Healthy Coping Mechanisms and Mental Well-Being
When children are feeling isolated, bullied, or have social anxiety, they can start to act out in negative ways. However, Buddy Benches can help teach children healthy coping mechanisms by showing them that you don't have to act out to get the love and support you need. It teaches children that it's okay to ask for help and to reach out when times are tough.
The concept of sitting on a bench as a signal to others that you need support helps kids learn how to better process their emotions.  And it enables others to speak to them and offer them the help they need. In turn, this also improves mental health and well-being.
Polly Products Buddy Benches
At Polly Products, we are big advocates of fostering positive behaviors and community through sustainable and ethical products and products. Our Buddy Benches are made with 100% recycled plastic to help the environment and are easy to keep clean and sanitized. They come in a variety of styles and colors to suit your needs, making for the perfect buddy seating for playmates, children, and adults alike.
Visit our website today for more information about the Polly Products Buddy Benches.