Benefits of Recycled Plastic
Polly Products can proudly state that we meet or exceed the requirements set forth in the  EPA's Comprehensive Procurement Guidelines for park and recreation products  Not all poly products are made of entirely recycled HDPE plastic and many poly products are not recyclable – that is an important consideration when buying recycled furnishings.
The term Green Products is not new to Polly Products; our products were touted as green before being green was popular. We start our molding process by purchasing 100% recycled plastics, then add colorant and UV stabilizers to protect the finished products from the suns' damaging rays.
Milk jugs, detergent/shampoo bottles and white plastic buckets are manufactured from polyethylene (HDPE or #2 plastic). Although our country is getting better at recycling, over 70% of post-consumer plastic is currently buried in a landfill or burned in incinerators.  Recycling plastic makes good economic sense as it requires less energy than producing new plastic, doesn't require additional natural resources (oil), and provides jobs all while keeping our landfills and green spaces cleaner.
We proudly manufacture all of our recycled plastic components right here in mid-Michigan, and our craftsmen create and fabricate products that are shipped worldwide.
For a print out with more detail on Material Content, please Click Here
For the MSDS sheet, please Click Here.
Polly Products maintains the highest standards for ecological conservation in both its business practices and its product development. As an ethical brand, we understand that environmental activism and the creation of sustainable technologies is not just a fad—it is the future.
Our green initiatives reflect our commitment to providing our customers with durable, classic-looking alternatives to traditional metal, wood, and wood-composite products. HDPE (high density polyethylene), the plastic used to make Polly Products, is very safe because it creates no harmful emissions—either during its production or as it is used by the consumer, and is non-toxic and does not leach anything into water or the environment.
We start our molding process by purchasing 100% recycled plastic, we then add colorant and UV stabilizers to protect the finished products from the damaging rays of the sun. The end results are maintenance-free products that will provide years of carefree service to the end user. The re-use of waste plastic is preferable to both the creation of new plastic and the addition of discarded plastic into the waste stream; for this reason, all of the plastic we use in our manufacturing process is recycled plastic. Our product is undoubtedly one of the most environmentally friendly products available, even among other recycled goods. Further, we do not add fillers, fibers, or contaminants, so the entirety of material in our plastic lumber is also recyclable at the end of its use.
Our mission doesn't stop at recycling plastic.  We walk the talk in our operations, too.  Our building has been updated with LED lighting on motion detectors; we've installed water coolers throughout the building and supplied all employees with water bottles to eliminate single use plastic bottles; we've installed a dishwasher and kitchen ware to eliminate the use of paper plates and plastic utensils destined for a landfill; we collect and compost our food waste, as well as the compostable paper products and guest cups we utilize; we have a full-service recycling center for our operational recyclables, and encourage employees to bring in their recyclables from home; we have recycling collection for items that aren't easily recycled locally, including batteries, light bulbs, electronics and foam and Styrofoam;  we have zero waste in manufacturing and all scraps are recycled back into feedstock; we pay for having our customers old or broken components shipped back to our facility so we can recycle them, rather than having the customer pay for it or throw them in the trash.  As you see, we are serious about our commitment!
Our ultimate goal is to provide you with a high quality, cost-effective product that will last for years and generations, with as little negative impact on the environment as possible.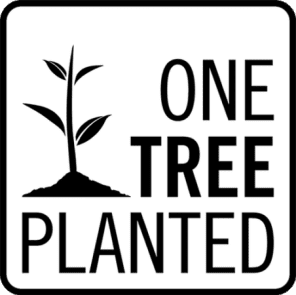 We've partnered with One Tree Planted and invite you to join us!
It's OUR world so let's join forces and take care of it together. If you'll help by selecting a donation amount when ordering, Polly Products will match that amount and we can do twice as much good!
Every dollar raised will plant one tree in some of the most devastated areas of our country. Wildfires, weather, and mudslides have left many areas bare, without erosion control or habitat for wildlife. Together, and in partnership with One Tree Planted, we can reforest our landscape and restore the life-giving, air-scrubbing, oxygen-producing trees.
Thank you for helping us help ourselves and the fellow inhabitants of our beautiful planet. We CAN do this together!

65 reviews / 4.9 stars
"Attractive furniture at a good price"
Our Donate a Park Bench
Program can help local governments save tax dollars by encouraging community members to donate park benches or other park furnishings. Once a local government sets up the program for their community, then individuals, local businesses, charities or other groups can donate a park bench
or other specified outdoor furnishings, for use in the community. These can be used for parks, walkways, bike trails, city streets, schools, bus stops, or any other public areas. Each item can be personalized with a plaque or custom engraving for recognizing the donor, a community group, as a memorial bench
dedicated to a loved one, or another customized message. Since these are all donated by members of the community, there is no cost to local governments or the coordinating agency.
Benefits of the Donate a Park Bench Program:
No Cost to Local Governments
Promotes Local Businesses
Supports Community Outreach
Honor Veterans/Public Servants
Can be Used for Fund Raising
Organizations we're affiliated with: