Description
3 CHAMBER CUSTOM BAT HOUSES
Our 3 chamber Bat Houses are designed for the health and safety of the bats and convenience for you. All chambers feature machined grooves that provide permanent foot-holds for roosting. This is safer for the bats than wire cloth which can tear or separate from walls and potentially injure the bats and pups. Plus, the interior chambers can be easily hosed clean from the ground after the bats leave to migrate south for the winter. And that's also safer for you – no need to get on a ladder to clean your bat house or make repairs.
Why We Love Bats And You Should, Too
Did you know that bats pollinate crops and fruit trees?  They also eat their weight in insects daily. This is especially vital considering the increasing number of diseases being transmitted to humans by mosquitoes. Bats also control pests in agriculture, which reduces the need for pesticides and keeps our food supply cleaner.  And they do all this important work for us on the night shift, while birds and bees take the day shifts. Bats are one of the most beneficial animals for humans and are, unfortunately, very misunderstood.
Why You Should Choose A Bat House Made of Recycled Plastic
Our 3 chamber custom bat houses are constructed of heavy-duty 5/8″ recycled high-density polyethylene plastic (HDPE). Bat colonies throughout North America are being afflicted with White Nose Syndrome, a disease that's very deadly to bats and transmitted among the colony while roosting.  So good bat house hygiene is a matter of life and death to bats. Just like our tables, the non-porous HDPE construction makes it easier to clean, both inside and outside, for improved cleanliness.  All interior chambers feature machined grooves to provide permanent traction for roosting. They are more easily cleaned than netting and won't ever rust.  This is also a better system for the bats compared to plastic netting or wire cloth because those can tear or separate from walls and potentially injure the bats and pups.  And since bats only have one pup per year, providing the safest and cleanest bat house helps protect dwindling bat populations.
The dense, thick recycled plastic board provides the warmth bats seek, and is impervious to moisture, rot, bugs, guano, and mold. Depending on your region, it may come with front and side openings for ventilation. Stainless steel screws maximize durability. Our bat house will last longer than wood varieties so it will serve it's purpose for many years.  Another benefit is that it never needs to be painted or stained, which is also healthier for your bat population and keeps you off of a ladder! The large size encourages bat colonization and can host up to 150 bats.
Bats return the favor by pollinating agricultural crops and eating their weight in insects every day. So bats are actually helping protect us from the increasing number of diseases being transmitted by mosquitoes. And because they also control pests in agriculture, they reduce the need for pesticides and help keep our food supply cleaner with fewer chemicals. Bats around the world are endangered and need our help. Let's do our part and they'll return the favor a hundred times over!
Our Custom Bat Houses Are Certified by Bat Conservation International www.batcon.org
Please read the instructions/specifications for proper placement to ensure successful roosting and protect your bats from predators. Bats only have one pup per year – let's keep them safe and help them grow up!
*Lumber post is not included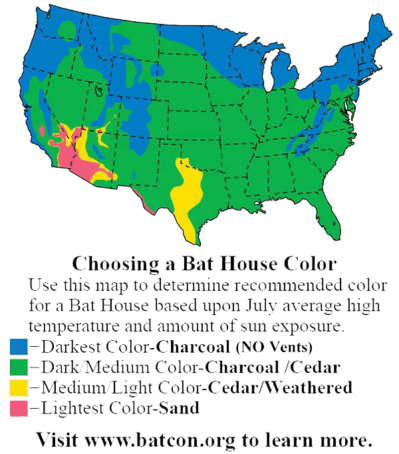 You should choose our 3 chamber custom bat houses over natural wood models.
Find out why from the experts and read "Why Do Some Bat Houses Fail?" HERE
We are often asked how to rid a home or building of roosting bats. This link to Bat Con International provides explicit instructions on how to do that without harming the bats.